Glenbard West High School


Class of 1970


Not a member?
JOIN HERE
Find and click on your name.

It is with great regret the 50th Reunion Committee of the Glenbard West Class of '70 is hereby announcing that our 50th reunion celebration is postponed until 2021 due to the COVID-19 pandemic.
The exact date of the rescheduled 50th reunion will be announced later this fall, once we know when the Glenbard West Homecoming for 2021 will be held, but it will very likely be late September or early October, 2021.
We will be in touch with the classmates who have already paid for events. You will be able to get a full refund or roll your payment over to the rescheduled reunion. We expect to offer the same events, although they may not be at the same venues.
According to the State of Illinois COVID-19 reopening plan, gatherings of over 50 people will not be allowed until Phase 5 of the state's plan is reached. Phase 5 will not be declared until there is either a vaccine or an effective treatment for COVID-19 (both unlikely by Oct. 2, 2020). Frankly, the health and safety or our semi-vulnerable population of 68-year-olds demands nothing less. It would take only one classmate becoming severely ill or dying because of the reunion to ruin what the Committee expects to be a joyous event. We also want as many classmates as possible to attend (the more the merrier!), and we have noticed website comments from many classmates expressing doubts about attending until the pandemic is behind us.
The bottom line was that the Committee voted unanimously (20-0) to have a later, but better-attended and safer gathering. So tell your kids and grandkids not to plan their weddings for late Sept. or early Oct. 2021!
Meanwhile, we encourage those classmates who have not yet registered for the reunion website [http://www.glenbardwest70.com/] to do so. We have over 125 classmates on the website, but that is only about half of the classmates we have reached via e-mail. The website will continue in operation as a virtual reunion, so sign on! There's a lively exchange of thoughts and good wishes already in progress.
Thanks for your understanding of this unfortunate, but necessary, decision. --
The 50th Reunion Committee
------------------------------------------------------------------------------------------------------------------
Can you believe it has been
50 years since we graduated?
(By the way, you still look fabulous!)
Come join us to celebrate long-standing friendships
and great memories in Glen Ellyn on
Homecoming Weekend!
October 2021
Friday, October tbd, 2021

3 to 5:30 pm* Golf Outing
*Exact time and course to be determined



7 to 11 pm Casual Meet and Greet
Arrowhead Golf Club, Wheaton
Saturday, October tbd, 2021
7:30 am to 11 am Pancake Breakfast in the GBW Cafeteria,
sponsored by the Booster Club
10 am Glenbard West Homecoming Parade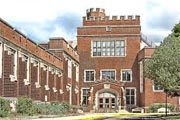 11 am and Noon
Glenbard West Guided Tours



10:30 am to 2 pm
Lake Ellyn Boathouse
Casual gathering with refreshments and music
during Homecoming football game.
6:30 pm to 11 pm 50th Reunion Dinner

Crowne Plaza Hotel (former Holiday Inn on Roosevelt Road)

Click on the Reunion Events tab on the upper left
of this page for more event information!
Hotel Accommodations
Crowne Plaza Hotel of Glen Ellyn
Phone: 630-629-6000
We have a block of 10 (or more) hotel rooms at $109 per night.
Click here for reservation information and instructions for block room rates.



Rick Jones, Paul Salerno, Jeff Ortmann, Elyse Kennard Leavy, Peter Hughes, Georgia Krause, Scott Zapel, Mark Luginbill, Jeff Johansen, Scott Bromann, Sue Langguth, Sandy Mueller Becker, Mike Rahm, Don Peterson, Gary Dec. Not pictured: Roger Brown, Connie Kowal, Judy Swarm, Sally Haas Wood, Linda Anderson Worcester
Lemme see...It was a very sultry day, with a classic Northern Illinois series of thunderstorms - including some puddles along Park Blvd which rivaled Lake Michigan! Made it, along with 1st girlfriend Marcie Abraham of Chicago. Of course, Massive cheering when Vic Zwerlein received his diploma. Afterwards, celebrated with a massive Panzer battle at Greg Kelley's house, after hunting down participant Paul Serafin to get him there!
Thanks for sending the Graduation Day reminder, Scott. I remember the evening being very hot and humid, with no AC of course. Those gowns did not allow for much ventilation! I also remember being very excited about graduating and going on to college. What do others remember?